Big Audio Dynamite 'This is Big Audio Dynamite'
Posted April 21st, 2010 by kevster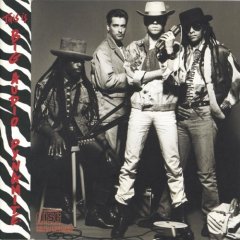 Elbowed out of the Clash, Mick Jones responded forcefully with Big Audio Dynamite, a modernist audio-terrorist outfit whose 1985 debut, 'This Is Big Audio Dynamite', seemed all the more futuristic when compared to Joe Strummer's reductionist retro rejiggering of the Clash on 'Cut the Crap'.
As is often the case, what was once forward-looking seems inextricably tied to its time in retrospect and the clanking electro rhythms, Sergio Leone samples, chicken-scratch guitars, bleating synths, and six-minute songs of This Is Big Audio Dynamite evoke 1985 in a way few other records do.
Nevertheless, BAD's boldness remains impressive, even visionary, pointing toward the cut-n-paste masterpieces of the late '80s and early '90s, and since Jones did not abandon his innate gift for hooks -- if anything, he found ways to create rhythmic hooks as well as melodic ones -- it's quite accessible for an album that is, at its core, avant-rock.