BigBang - Poetic Terrorism
Posted August 29th, 2007 by aidan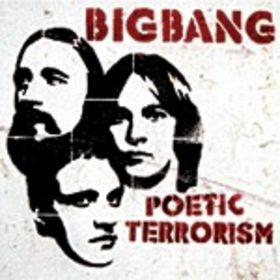 Strangely Fleetwood Mac / The Eagles were the first things that came to mind on first listen. It's not quite what I expected. That's not entirely true because I'd watched a couple of their videos on youtube a while back and I now recall it being something like this. I was introduced to these guys through their exceptional live acoustic album, Radio Radio TV Sleep (one of the most beautiful albums I've ever heard). This is much rockier - actually that's why I've put off listening to this for so long, their acoustic stuff is just so damned good I figured it would be impossible to top.
I think I still prefer the raw stripped down innocence of Radio Radio TV Sleep though there's plenty of lovely stuff to explore here. The 70s sound is definitely carried the whole way through the work. I like their chunky guitar distortion. Some of the tracks, Music In Me being a prime example, are adorned with that beautiful string sound that I've come to demand from the Norwegians.
Yeah, it's growing on me - agreeable sounds for the rest of my summer.