Bob Sinclar - Western Dream
Posted January 23rd, 2008 by aidan
in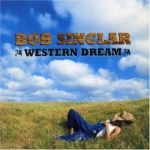 Love, love, love, love, love... oh please make it stop. Listening to this with the boat healed over beating through the waves at 10kts and me in the galley trying to bake bread, bad idea.
The whole thing felt a bit amateurish to me. The lyrics were really the killer though - too much ecstasy makes you think you can heal the world tih love. Any lyric that wasn't about love seemed to be thrown in for the sake of creating a rhyme - despite how non-sensical the sentence became.
Obviously Love Generation is going to stand as a classic summer anthem. Just wish I hadn't heard it in the context of the rest of the album. Had it not been for the dough all over my hands I would have torn my headphones off.