Dirty Dozen Brass Band 'Medicated Magic'
Posted April 28th, 2010 by kevster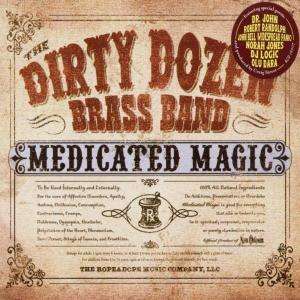 New Orleans' most famous, well-traveled, and recorded brass band celebrates its 25th anniversary with its ninth release.
Best known in rock circles for contributions to albums from the Black Crowes, Elvis Costello, and especially Widespread Panic, the hotshot horn men offer few surprises on this disc predominantly comprised of popular Crescent City classics.
But why bother stretching boundaries when their sound remains unique, stimulating, and inspiring?
Guests range from sacred steel guitar master Robert Randolph -- whose soaring, hair-raising solos on three tracks infuse even more goosebumps than the already nail-biting musicianship -- to Dr. John on vocals and piano, and sexy chanteuse Norah Jones gets slinky on the most sensuous version of "Ruler of My Heart" ever recorded.
No matter how often you've heard these tunes, the Dirty Dozen's crackling second-line rhythms, bumping tuba basslines, and uncanny ability to shift from boiling low-down gumbo to cool jazz make the versions here essential listening. "It Ain't Nothin' but a Party," as they say in the appropriately titled opening track.