Frank Sinatra 'In The Wee Small Hours'
Posted March 2nd, 2010 by kevster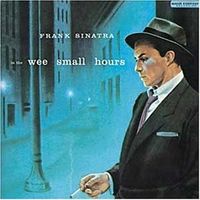 One of the very first, and still one of the very best concept albums (organised around a central mood of late-night isolation and aching lost love, supposedly due to Sinatra's separation from Ava Gardner). His voice had deepened and worn to the point where his delivery seems ravished and heartfelt, as if he were living the songs.
The featured cut, "Mood Indigo", is a Jazz standard from c. 1930, and Sinatra sings it with heartfelt warmth.
If you're pining for that special someone, look no further.