Giorgio Moroder 'E=mc2
Posted April 20th, 2010 by kevster
in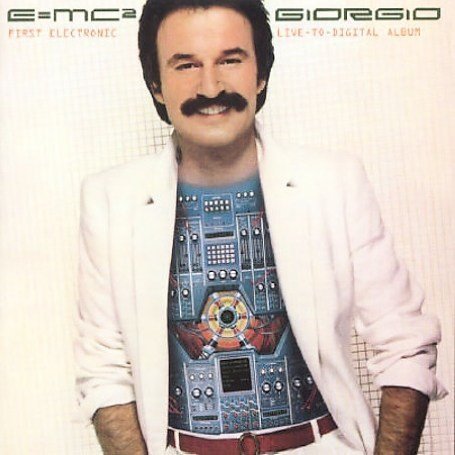 Even though Moroder (who, like Kraftwerk's members, is German) didn't invent electronic dance music single-handedly, he was among the first people to recognize its possibilities. In 1979, Moroder showed us some of those possibilities on E=MC2, a programmed, entirely electronic recording he produced with Harold Faltermeyer. As the album cover states with pride "First Electronic Live-to-Digital Album".
"In My Wildest Dreams," "I Wanna Rock You," (featured here) and "What a Night" are average disco tunes -- it's the computerized digital production that made them so fresh-sounding and risk-taking for their time.
To fully appreciate how forward-thinking this album was, you have to remember that in 1979 R&B and dance-pop hadn't gone completely high-tech and were still relying on a lot of studio musicians. This is the electronic dance music that preceded the rise of techno, house, and industrial noise, and it came at a time when hip-hop was in its infancy and the rave subculture had yet to be invented.
Nice 'tache Giorgio...