Guru 'Jazzmatazz, Vol. 1'
Posted April 23rd, 2010 by kevster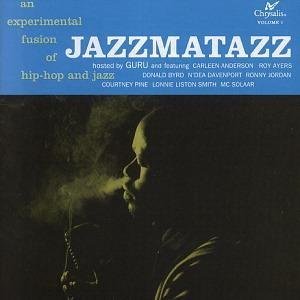 Though it can reasonably be argued that rap grew almost directly out of funk and its particular beat, there are a lot of overlaps with jazz, particularly the bop and post-bop eras: the uninhibited expression, the depiction of urban life, just to name two.
Jazz samples have also had a large role in hip-hop, but the idea of rapping over actual live jazz wasn't truly fully realized until Gang Starr MC Guru created and released the first in his Jazzmatazz series in 1993, with guest musicians who included Branford Marsalis, Donald Byrd, Roy Ayers, Ronny Jordan, and Lonnie Liston Smith.
While Guru's rhymes can occasionally be a little weak ("Think they won't harm you? Well they might/And that ain't right, but every day is like a fight" are the lines he chooses to describe kids on the subway in Brooklyn in "Transit Ride"), he delves into a variety of subject matter, from the problems of inner-city life to his own verbal prowess to self-improvement without ever sounding too repetitive, and his well-practiced flow fits well with the overall smooth, sultry, and intelligent feel of the album.
From Jordan's solo on "No Time to Play" to Ayers' vibes expertise on "Take a Look (At Yourself)", Jazzmatazz, Vol. 1 is a rap album for jazz fans and a jazz album for rap fans, skillful and smart, clean when it needs to be and gritty when that's more effective, helping to legitimize hip-hop to those who doubted it, and making for an altogether important release.
R.I.P. Guru