Jazzanova 'The Remixes: 1997-2000'
Posted February 25th, 2010 by kevster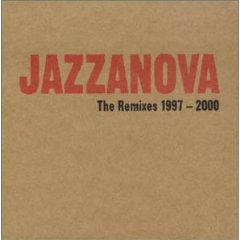 I'd heard of Jazzanova's influence, but not been lucky enough to hear much of their body of work.
This compilation has served as an eye-opening guide to the German collective, and as such, needs to be an essential component of every musicologists collection.
Spanning only three years, the group has assembled their entire remix output onto a disc that is utterly indispensable for those who appreciate their brand of innovative soul.
The featured track, 'Welcome To The Party', shows Jazzanova at their best. Originally a composition that appeared on Ubiquity's outstanding New Latinares compilation, Jazzanova turns this honest, simple piece into an extended workout, complete with a shimmering piano breakdown that would have the snootiest of jazz purists bobbing their heads and shaking their hips.
Turn the lights down low, and enjoy!