Ken Nordine 'Colors'
Posted February 24th, 2010 by kevster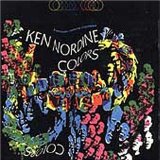 'Colors' began as a short-lived series of radio commercials written and voiced at the behest of the Fuller Paint Company. The spots ran as scheduled; however, at the end of the campaign listeners began calling radio stations to request they be rebroadcast. Once word got back to Nordine, he rewrote the scripts.
Each selection runs roughly 90 seconds and represents a specific shade -- most of which are variations of those found on the primary spectrum. The record kicks off with "Olive" being hailed as "about-to-be-named color of the year by those with the nose for the new, by the passionate few."
All your mix tapes will be very happy that you've bought this strange record to flavour them with.