Mercury Rev - The Secret Migration
Posted March 17th, 2008 by aidan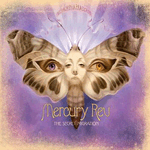 I went through a period where I listened to a lot of Mercury Rev, All Is Dream and Deserter's Songs in particular. In the early days I'd get the strangest feeling that I'd heard it all before. I have no idea how it worked but it felt like I was listening to something from deep in my childhood. The more I listened the more the songs became associated with Mercury Rev.
This album didn't do that to me. This sounds like Mercury Rev from the get go. That's not a bad thing, they have a unique sound and it's a pleasure to listen to. I think this is one that with a bit of work will stay with me.
Ha! In A Funny Way just did that Beach Boys thing - that drum sound like in Bat For Lashes.