M.I.A - Kala
Posted September 13th, 2007 by aidan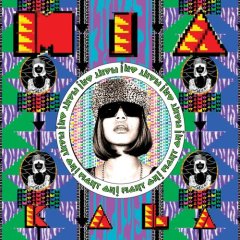 In case you missed her last time round M.I.A. is a UK treasure to be cherished. When the vast majority of the UK music scene was flooded with similar sounding indie bands (similar sounding everything for that matter - and not much has changed since) she released Arular to dropped jaws. It was responsible for introducing Baile Funk to most of the western world (thanks to the work of Diplo at the helm) - an all new addictive dance vibe.
Kala builds on her debut sound without becoming an imitation. Although we still get to enjoy her mighty 808 sine waves the beats feel somehow more advanced. There's a bit of Bollywood influence thrown in the mix this time which works really well with her sound. There's a lot more influence going on all over the place for that matter including more old jungle/rave sounds.
20 Dollar may very well rip your sound-system apart - it starts off sounding like it's going to be a cover of Blue Monday but quickly deviates.
There's less politically loaded commentary on here - probably for the best if she wants to get the Mercury Prize for this one.