Midnight Oil - Oils On The Water
Posted May 20th, 2007 by aidan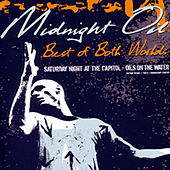 I watched a recent (political) interview with Peter Garrett the other day and it motivated me to listen to Midnight Oil again. Oils on the Water is currently the only album available through emusic so I figured I'd give it a shot. I didn't realise that it was a live album when I purchased it, luckily the recording is great.
Most of the material is unfamiliar to me but it was enjoyable nonetheless. I believe it's a recent reissue, with the original recording coming out before Beds are Burning and the like turned them into superstars. The Midnight Oil message is there loud and clear - forever challenging without being negative - it's nice.
All the tracks are massive rock master pieces. Oh, and the horns seriously kick ass.