Morcheeba - Who Can You Trust?
Posted May 20th, 2007 by aidan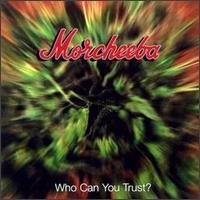 While digging through my albums today I stumbled across Morcheeba's very first album. Ahh, back when Morcheeba were good... really, really good. To be fair their following albums were actually ok but Big Calm has the dubious honour of being one of the most overplayed albums of all time.
Who Can You Trust? was a better album to begin with. Even the names 'Moog Island', 'Tape Loop' say more. It feels like raw stoned toying in an attic somewhere, before they had a reputation to live up to. I guess things have worked out pretty well really. Big Calm is like a sacrificial metal... soaking up the attention and leaving the old stuff untouched. Just the way I like it.
Anyway, it's tasty. Smooth vocals, lovely beats. Going to be perfect one afternoon this summer.