Nouvelle Vague presents New Wave
Posted July 6th, 2007 by aidan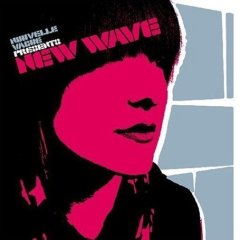 When I was first alerted to this album I was enthralled - their previous effort, Late Night Tales, has been one of my favourite mixes of late (excuse the pun). So, try to imagine my joy on discovering that it's all covers. That's right, every last track on here is a cover, two cds worth!
Thankfully I'm only familiar with a couple of them (I'm all about the new tunes). In particular Devo's Satisfaction has been high on my list of years (I actually had the pleasure of seeing them play it live recently).
Obviously the sound is completely new wave. Highlights for me include Jet Boy Jet Girl (Elton Motello), If You Want Me To Stay (Ronny) and Route Nationale 7 (The Honeymoon Killers). Though of course it's all really good.
Joy Division finish the album off with their live rendition of Sister Ray... and who better to get the last word on this one?