Scala & Kolacny Brothers - It All Leads To This
Posted July 4th, 2007 by aidan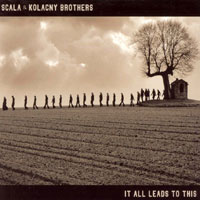 When people mention acapella covers I normally cover my ears and start rocking back and forth. Even though I love covers I feel that I'm not strong enough to endure another bad acapella cover song. Luckily the good folk in Leuven picked a good one for me to enjoy this time round.
In covering some of my absolute favourites (such as Enjoy The Silence) you're heading into seriously dangerous territory. It just works though. The arrangements are lovely. I guess it's cheesy - but it's so damn beautiful.
In all honestly once I started I simply couldn't turn it off.