Smog - Knock Knock
Posted June 19th, 2007 by aidan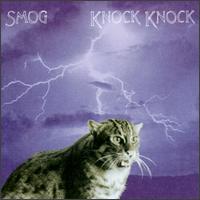 These guys sound a lot like one of my favourite Wellington bands, Dana Eclair. Americanaish with more of a rock edge. Flaming Lips quality to the singing.
As I listen to this I'm watching a guy on the opposite train platform from me. He's very drunk, leaning against a pole, threatening to topple into the path of an oncoming train at any moment. The scene really suits the song (Held).
Healthy mix of downbeat and upbeat tracks. Lots of handclaps, I like handclaps. The final track, Left Only With Love, is absolutely beautiful though rather sad. Reminds me of Candy Says (VU). I have no idea why Smog aren't huge.