The Nextmen - Not the Nextmen (Live From The Newsroom)
Posted November 21st, 2007 by aidan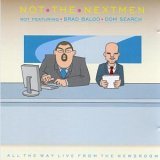 When I first moved to the UK I thought I'd get to see various DJs blow me away with what they could do live. Imagine my disappointment on discovering (on the 2nd day in town) that for most of them it's a façade. DJs that were meant to be the greatest mash-up artists in the world turned out to be little more than slightly experimental electro/breaks DJs.
Now, I'd heard The Nextmen's work on various Grand Central offerings over the years but it was a chance meeting in 2005 that refuelled my interest in what they were doing. I have no idea how many Nextmen gigs I've been to since then. They tend to lean more towards soul/funk/hip-hop/reggae/dnb but really nothing is off limits - tunes to make you dance seems to be the only criteria. This album, or any of their mixtapes for that matter, are great showcases of what they do live.
I love the Nextmen. Hands down the most fun live DJs I've ever seen.