UB40 'Signing Off'
Posted April 21st, 2010 by kevster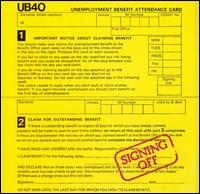 So ubiquitous is UB40's grip on the pop-reggae market today, that it will be difficult for younger fans to comprehend just how their arrival shook up the British musical scene.
Their rhythms may have been reggae based, their music Jamaican inspired, but UB40 had such an original take on the genre that all comparisons were moot.
The moody roots fired "Tyler," which kicks off the set, is a potent condemnation of the US judicial system, while it's stellar dub "25%" appears later in the set. The smoky Far Eastern flavored "Burden" explores the dual tugs of national pride and shame over Britain's oppressive past (and present). If that was a thoughtful number, "Little by Little" was a blatant call for class warfare. Of course, Ali Campbell never raised his voice, he didn't need to, his words were his sword, and the creamier and sweeter his delivery, the deeper they cut.
From deep dubs shot through with jazzy sax, to the bright and breezy instrumental "12 Bar" with its splendid loose groove, that is transmuted later in the set to the jazzier and smokier "Adella," "Food" slams into the dance clubs, "King" (featured here) floats to the heavens.
A timeless masterpiece.