brass
Posted April 28th, 2010 by kevster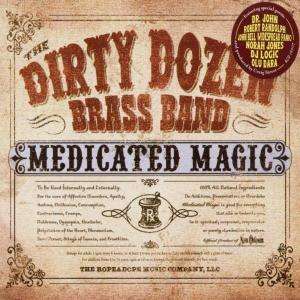 New Orleans' most famous, well-traveled, and recorded brass band celebrates its 25th anniversary with its ninth release.
Best known in rock circles for contributions to albums from the Black Crowes, Elvis Costello, and especially Widespread Panic, the hotshot horn men offer few surprises on this disc predominantly comprised of popular Crescent City classics.
But why bother stretching boundaries when their sound remains unique, stimulating, and inspiring?
Guests range from sacred steel guitar master Robert Randolph -- whose soaring, hair-raising solos on three tracks infuse even more goosebumps than the already nail-biting musicianship -- to Dr. John on vocals and piano, and sexy chanteuse Norah Jones gets slinky on the most sensuous version of "Ruler of My Heart" ever recorded.
No matter how often you've heard these tunes, the Dirty Dozen's crackling second-line rhythms, bumping tuba basslines, and uncanny ability to shift from boiling low-down gumbo to cool jazz make the versions here essential listening. "It Ain't Nothin' but a Party," as they say in the appropriately titled opening track.
Posted February 8th, 2008 by aidan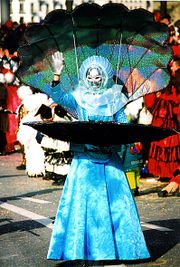 Lord, what a week. Celebrating Fastnacht is hard work (though it's a good excuse for my recent absence). While the holdrio (tea laced with schnapps) is still flowing the bands keep playing. While there are still bands playing, we keep dancing.
Fastnacht most certainly is a local festival for local people - just the way festivals should be. The general idea is that everyone gets dressed up (in outfits ranging from bizarre to the downright scary) and then makes a lot of noise to drive out the spirits of winter. The noise comes in the form of more than 100 brass bands, some with as few as 6 people and others as large as 70.
Hilariously it's almost like this is the land that time forgot - thankfully it slipped from the loving grasp of the 80s. Hang out with the right people and you may even be treated to the theme from MacGuyver though more commonly you'll hear things like Holding Out For a Hero and Time After Time. There were about a dozen absolute Swiss classics that popped up continuously - I was amazed at how many I had learnt (read: was happy make roughly melodic noises to at the top of my lungs) by the end of the festival (having said that I was pretty happy to sing along one first listen).
I made dozens of recordings throughout the week, unfortunately while the best of them were playing I ran out of batteries. This one, I think, captures the spirit of the event nicely.
Posted June 2nd, 2007 by aidan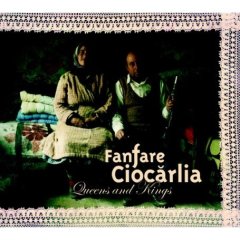 Radio 3 naming you the years best world-music act (2006) is going to do wonders for your reputation. That probably goes a long way to explaining why the Barbican Centre was completely packed out for their performance last night. The enthusiasm shown by the crowd, however was completely driven by the band.
It was a hell of a performance and the crowd didn't hold back in displaying their appreciation. Most of the night the stage was dominated by 40 year old men with big brass horns - though flamenco dancers did slink past from time to time to provide the eye-candy.
The album is cool but it just doesn't match up to the live experience. Truthfully, there's no way it ever could - there are just a few times in my life where I've witnessed performances that even come close to matching this in energy. There's something incredible about hearing brass live. I love the way it sounds like it's tearing through the air - invokes the same satisfaction one derives from shredding paper. From what I saw last night everyone felt the same way about the gig I did.