covers
Posted January 15th, 2008 by aidan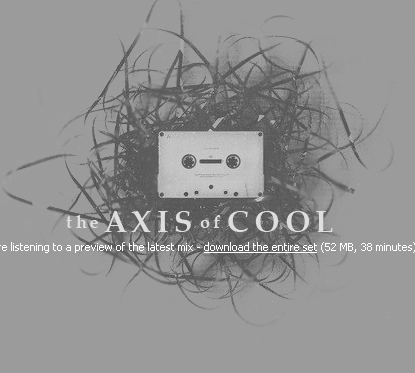 This one is pretty close to my heart. It happens to be full of tracks that I love - that's not surprising really... given that I was involved in making it. It's basically the perfect mix for me; country, electro, pop, house, dnb, metal, everything really. A friend and I spent almost a year twiddling with knobs and dials in our respective countries sculpting a mix that we could really enjoy. There's something in there for everyone and something in there to offend most everyone (63 tracks 38 minutes).
I was reminded of it the other day after I meet someone who had been enjoying it of late. It was nice to listen to it again. It's great having a taylor made mix. Head over to the axis of cool to check it out - go on, find that moment in there that you really hate...
Posted June 19th, 2007 by aidan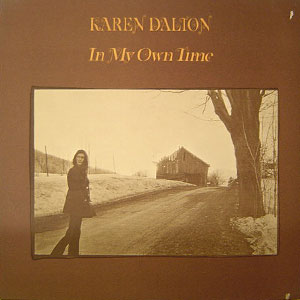 Random tip from a random site discovered whilst digging around for Kiki Bohemia related material. This is very much a Rodriguez moment for me - another under-promoted great. From what I can gather this has been a record collectors (notoriously hard to obtain) favourite for years, now made accessible to the masses via a recent reissue (though I'll be going out of my way to get hold of an original copy).
God, what a voice. Billie Holiday-esk I suppose, incredible texture. Something On Your Mind and In a Station are well up on my list of picks of the moment.
Katie Cruel blows me away - is this the original? I also have covers by White Magic and Bert Jansch collected along the way that I absolutely adore. Either way it's simply a beautiful song.
Apparently Bob Dylan and Nick Cave are both huge fans of her work. In the end she died destitute after drug addiction in the states (in Take Me I think she says "it would be like heroin to me")... hell of an injustice.
Posted June 5th, 2007 by aidan
Cheesy to the extreme... though just look at the name, it's a dead give-away. I can't believe people still make music like this (in 2006?!). What's up with the moonlight sax?
Over the top guitar solos form the foundation of every song. Just more Satch style guitar wank when it comes down to it. Haha - Blood Of The Snake, what does that even mean?
52 minutes of self-indulgent guitar work is a bit hard to take - though once one submits to the cheese it's enjoyable enough and there's gold at the end of the painbow - Billy Idol and Slash join them for a light cover of In The Summertime.
All I can think is either I've gotten the dates wrong (reissue?) or there's a pocket of people out there somewhere who have been cut off from the rest of the world since the early 90s. Now, that's just sad.