rap
Posted February 21st, 2008 by aidan

It's pretty hard to classify this stuff. I purchased a couple of tracks from their singles Center Stage and Sweat after one of the American lasses I met at the Dan Deacon gig pointed me their way. I think of it as a kind of cliché retrospective look at 90s dance music with all the emphasis on having fun. You remember those pianos right? They also incorporate more recent elements from electro music.
At about 3:40 Center Stage descends into an acid rave mashup... before it forgets itself again and slips into distorted digital noise.
They haven't really released a whole lot yet but they're definitely one to watch out for over the next year. I'm picturing one of their live gigs as a place to be.
Posted May 28th, 2007 by aidan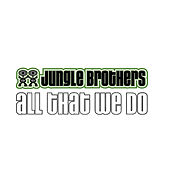 These guys infuse so many different styles into their music that I've been hard pushed to figure out just how to place them. That probably goes a long way to explaining why they've never really broken the mainstream market. To be fair they've had a couple of tracks that have become DJ essentials over the years. Jungle Brother (True Blue) is in almost every DnB DJ's record bag and many consider their classic I'll House You to be the foundation of the hip-house crossover genre.
Fans of Outkast, Arrested Development and the like will find a lot to enjoy here. The rhymes are intelligent and witty. Nods to other great hip-hop/pop works pervade many of the songs making it great for all the trainspotters. Thankfully The J. Beez don't suffer from the self-indulgent skit syndrome that other artists allow to destroy their work (there's only a single skit on the album and it's more of an introduction than anything).
Love & Hate is particularly interesting, sounding more like electro/disco club than hip-hop.