spoken-word
Posted April 1st, 2010 by kevster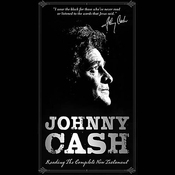 As I'm in a Johnny Cash mood today, here is a rare treat; The Man in Black reading a powerful, yet tremendously tender rendition of the New Testament.
Cash reads the Book with devout humility, with no embellishment. He speaks clearly and plainly, with the odd trace of his Arkansas accent giving the whole a rich, comfortable feeling (with the odd pronunciation of "Pontius" and the very Southern "nekkid"), which draws the listener in, as though we're right there with him, perhaps sitting in a warm cabin on a winter night listening gathered around the rocking chair while being read to.
It's difficult not to be moved by these words being read by a man of simple, basic faith. How one interprets them is purely personal, as it should be.
As you may have guessed, the featured work is from the book of Matthew, detailing the resurrection.
Happy Easter to you all.