Björk - Volta
Posted June 23rd, 2007 by aidan
in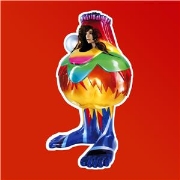 I got this the day it came out and then only listened to it once. That's pretty stupid of me considering how much I liked her last album (and everything she's ever done). There was something about the fact that it's Timbaland produced that put me off. Not that I don't like his work, it's just that I know his sound and I just didn't want to hear Björk like that.
Declare Indepndence is the song that jumped out at me on this one. It crescendos into such a great rolling sea bound swell. I also predict that it's probably the track I'd get sick of first.
Flicking through the tracks again I can hear that it's good. This girl really knows how to turn out a great pop work.