Jim Noir 'Tower of Love'
Posted March 9th, 2010 by kevster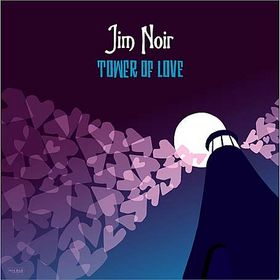 On his debut album, Jim Noir (a homage to Vic Reeves' real name, Jim Moir), proves himself to be a first-class mix-and-match master, blending the cheesy drum machines and bubbling synths of indie electronic, the lo-fi guitars and adult-child vocals of indie pop, and the full-bodied and harmony-drenched arrangements of chamber pop into a swirling, soothing, and truly lovely Technicolor pop confection.
There is the pronounced influence of those renowned American nutters, the mid-'70s edition of the Beach Boys. There are comparisons to be made to the anything-goes spirit and sound of contemporary explorers like Super Furry Animals and the Beta Band.
There really isn't a weak song to be had, and the album flows past like a gentle stream winding its way through a summer meadow.
The lyrics are light and breezy throughout, especially the songs about stealing footballs ("Eanie Meany") or the lighthearted threats. They help to bolster the childlike sense of wonder that the album is bathed in. You will be hard-pressed to keep from walking around all day grinning like a fish once you give the album an airing. The featured cut 'Computer Song' is one of my favourites, just for it's harmonies. Give it a listen and you'll see what I mean.
Doctors should prescribe a spin of Tower of Love to chase the blues away.