afro-jazz
Posted June 2nd, 2007 by aidan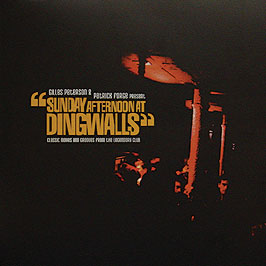 I was lucky enough to get to enjoy the Sunday Afternoon At Dingwalls reunion last year. If I hadn't gone along to that gig I wouldn't have given this album a chance (due entirely to my own ignorance). Whenever I've seen Giles DJ in recent years I've always found it a bit... safe. Just a bunch tracks based around latin beats - see what I mean about ignorant?
The only reason I went along was that a mate of mine (Adrian) insisted that it would be great history lesson. How right he was.
The atmosphere was absolutely incredible. All the old regulars had dusted off their dancing shoes so they could slide around the dancefloor with their slick jazz moves. The music itself was fantastic. See, I had no idea that this event spawned the acid jazz movement - though it's all so obvious now. These were the people that resisted the draw of popular dance music, choosing instead to evolve jazz.
The album is a great little sampler of what the party was like. The songs are all fun and very danceable. If nothing else you get to enjoy a bit of that history lesson.