alternative
Posted June 3rd, 2007 by aidan
in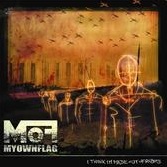 Another beauty picked up from my Bristol experience. Recorded, I believe, in the same place with the same people as Ivory Springer, and the influence shows. This 3-piece definitely have a harder edge to them. They have the same intelligent-rock feel as Tool.
It's short - only 20 minutes long, but a good 20 minutes. Quality over quantity. I've always said that when we moved to CDs albums became too long.
If nothing else this album reminds me that I still love a good bit of metal.
Oh yeah. The artwork really kicks ass too.