Progressive House
Posted May 24th, 2007 by aidan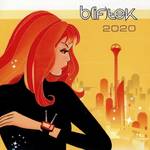 I heard a snippet of B(if)tek's We Think You're Dishy at a friend's party (a rather fine affair in a giant manor house in Devon) and have periodically hunted for a copy of the album since. Last week I managed to get hold of a copy but I guess I mustn't have been in the mood for it at the time as I just flicked through the songs and then filed it away. Listening to it now I'm pretty impressed. I guess if you were in to your genres you'd call it progressive house with a twist of breaks - not that I'm any sort of expert in that field but it reminds me a bit of Gabriel & Dresden.
There are TV/movie samples lightly dusted over the album - I can't pick where they're from but I've heard some of them before on the Kleptones most excellent Night At The Hip-Hoppera. Not just TV samples for that matter, Bedrock for example is built on a foundation of a sampled 1940s(?) horn.
Constantly twisting, turning and evolving the listener isn't fatigued by the repetitive beats that generally plague house music. It's very interesting stuff.
Oh, and you get a playful cover of Wired For Sound thrown in for free.