Bastian - IV
Posted February 21st, 2008 by aidan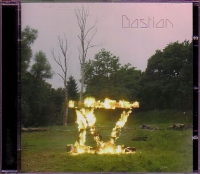 Hey, it's Chromeo but cooler! Far cooler. To be fair I've only ever listened to Needy Girl but somehow this feels slicker. I guess the Chromeo comparison really comes from the over the top use of vocoderesk sounds. No, actually, the synth sounds are pretty similar too. This is much lighter and much funkier. It's pure dance goodness.
Where to start? It seems that every track is a disco-pop masterpiece. There are downbeat numbers but it's the dancer tracks that tickle my fancy. Arcade Love and Sturdy are the ones that are really doing it for me presently.
Oh yes, and it's called IV because every single song is exactly 4 minutes long. Go figure.