Burial - Untrue
Posted December 28th, 2007 by aidan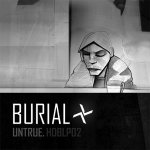 I overlooked the release of this album a couple of months ago (I was at sea at the time) and I've been feeling like I missed out on something special. Never mind though, relief comes in the form of Burial overdose. Back in June when I was completely blown away by his eponymous debut LP I had no idea that his second album was so near, nor that it would be met with such widespread acclaim; it's even taken the prize for album of 2007 on metacritics list!
There's plenty of stuff out there on the ol' inteweb saying the same thing, it sounds like South London in the dark; it sounds like a post-rave come-down; it sounds like the remnants of the dance culture that we've almost lost. But there's something else that nobody seems to have picked up on, Archangel is ambient pop gold. Those cut to shed vocals just couldn't get any more appetizing.
One gripe. Why isn't this stuff being nominated for the Mercury Prize? I mean, I fail to see the difference between what's happening here and what Roni Size was doing in the 90s. Maybe there's a slight conflict of interest going on these days?