Tolcha - Gestalt
Posted November 29th, 2007 by aidan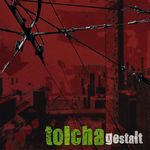 Really loving this at the moment. Very dark - being grime that makes perfect sense. A lot of it is quite ambient, though the album builds as a whole to several massive peaks - complemented by exquisite vocal work. RQM, who also features on the new Al-Haca work, seems to be the main contributor though several different vocalists make an appearance. The turning point for me is after the line "I'm a rapper but one of the broke ones" in Tomchak.
It's worth stopping a moment to take in the lyrics. In typical Berlin style it feels quite grass-level socially political, if you catch my drift. It gets serious in Blckrcrd when there's talk of killing billionaires.
Reminds me a lot of Burial. That's a good thing. Wonderfully cohesive work.