Dan Deacon - Spiderman of the Rings
Posted December 31st, 2007 by aidan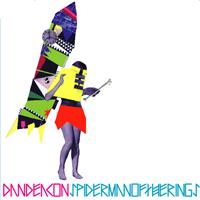 The moment I arrived back in London after my travels I asked my friend, Will, to give me a big musical dose of the new and interesting. This was the second album on the stereo. Now I'm hooked. Currently sitting on the train back from Bristol trying to jam as much of this stuff into my head as possible before the Dan Deacon gig at The End tomorrow night. I can't wait, looks like damn good geeky fun.
Synths running arpeggios, fat basslines, catchy hooks all bashed together in wonderfully cohesive poly-rhythms. And let's not forget the sing-a-longs for the whole family (which seem to be the basis for the live gigs).
I guess, to most it's just noise (though I'm not going to presume to know what's going through the head's of the masses). Wham City has it all covered (12 minutes long, you gotta let it build). If you ain't got it by the end of that pearler, well, I guess you never will.