Ellen Allien & Apparat - Orchestra of Bubbles
Posted January 8th, 2008 by aidan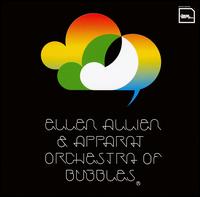 This certainly became one of my electro favourites of the (sailing) trip. I don't know the first thing about Apparat but of heard little bits and pieces of Allien before. I believe she's from Berlin. Turns out Apparat is a Berliner too. Oh, look at that, he owns Shitkatapult (the label T.Raumschmiere is on).
I'm glad this isn't like so much of the stuff you hear in the Berlin clubs (though I have come to appreciate that Berlin club sound a lot more in recent months). Really it has far to mellow of a vibe to make good club music. Bubbles is more about the shapes of the sounds than the beats. It really does sound like an Orchestra of Bubbles.
Mmmmmmm, Way Out is a silky little gem.