Fink 'Biscuits For Breakfast'
Posted March 2nd, 2010 by kevster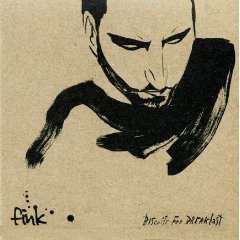 Wandering through the vault today, I decided to listen to a disc that Aidan had cut together. I'm so glad that I did, as the subject of this review needs special mention.
Prior to 'Biscuits For Breakfast', Fink was happily carving a path through the world of ambient trip-hop. 'Biscuits' sees Fink strike out in a new direction.
Built around his bluesy voice, finger-picking acoustic guitar and the stripped-back live rhythm section, there is a wonderfully intimate smokiness in Fink's approach to his songs. It's intimate, but utterly lacking in sentimentalism.
The featured track, "Pretty Little Thing," on which he plays the whole menagerie: bass, guitar (nylon strings, no less), and B-3 Hammond. The lyrics in this cut are not much to be sure, but as a first track Fink's looking to usher in the set's atmosphere, and as such it works beautifully.