Folk
Posted April 22nd, 2010 by kevster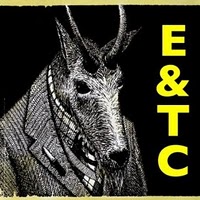 There's not much more British than slightly freaky folk music. As if to prove the point, Erland Cooper (along with Simon Tong (Verve, Blur) and (drummer from The Fireman) David Nock) has mined these pleasant pastures for a debut album of depth and weird beauty.
Together, they've taken various bits of existing poetry, lyrics, folk tales and songs, and melded them together with their own organs, guitars and lyrics. The result is a collection of engaging, swirling tracks and stories that sound like the soundtrack to a creepy, dreamy funfair.
The best example of this is The Derby Ram – an update of the traditional ballad about the giant ram which got the city its emblem.
Elsewhere, William Blake's verse The Echoing Green is set to a hypnotic offbeat guitar part that Cooper hides his voice behind. Leonard Cohen's return-to-libido poem Disturbed This Morning is given a curious reworking that makes it more wanderlust than old-man lust, and My Name Is Carnival (featured here) a cover of a track by tragic 60s folk singer Jackson C Frank (which gives the band their name) is a buxom, jazzy, introduction to the Carnival's shtick.
It's a curiosity alright, one you can file next to similarly interesting backwards-looking modern bands like The Decemberists, The Coral and Mystery Jets.
A freakbeat take on sample culture.
Posted March 2nd, 2010 by kevster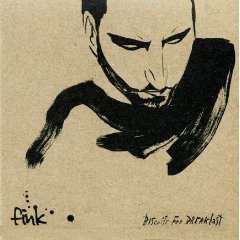 Wandering through the vault today, I decided to listen to a disc that Aidan had cut together. I'm so glad that I did, as the subject of this review needs special mention.
Prior to 'Biscuits For Breakfast', Fink was happily carving a path through the world of ambient trip-hop. 'Biscuits' sees Fink strike out in a new direction.
Built around his bluesy voice, finger-picking acoustic guitar and the stripped-back live rhythm section, there is a wonderfully intimate smokiness in Fink's approach to his songs. It's intimate, but utterly lacking in sentimentalism.
The featured track, "Pretty Little Thing," on which he plays the whole menagerie: bass, guitar (nylon strings, no less), and B-3 Hammond. The lyrics in this cut are not much to be sure, but as a first track Fink's looking to usher in the set's atmosphere, and as such it works beautifully.