Oi Va Voi - Digital Folklore
Posted August 1st, 2007 by aidan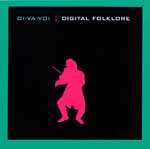 Oi Va Voi have recently released a new album that's getting very good reviews - I thought it prudent to listen to some of their old stuff first. I try to make a habit of working that way where possible.
This is cool. Very eclectic mix of sounds and influences. At it's core you get Jewish klezmer type goodness but it's spiced up with all sorts of other things. Drum and Bass beats for example are used in the vast majority of the tracks. I guess it's basically traditional Jewish music with electronic wizards working the controls. Lots of cool bits of looping and the like.
It surprises me that this doesn't sound more dated, given that it's 5 years old now (in a genre, ethnic/electronica, that's a bit risky for that). Looking forward to sitting down with their latest offering now.