Tool - Lateralus
Posted May 28th, 2007 by aidan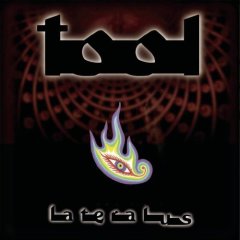 Can you believe this album was released in 2001 and I've only just gotten around to listening to it? Disgraceful really considering Ænima was one of my most overplayed albums of 1997. I'm not really sure why I let it happen. Silly.
Of course it's good. It's Tool. These guys are like the nuclear physicists of metal. Disassemble the music, understand the music, put it back together to create new things nobody ever thought possible. Their rhythms are always so interesting, wonderful hypnotic patterns set in differing time-signatures for every instrument ensure that the emphasis is constantly shifting. Then after much suspense everything slots back into place with a thud (half way through Triad we see the effect executed perfectly).
God, I'm so far behind the times. I have another Tool album to catch up on now - at least Lateralus provides something of an assurance that it's bound to be good.