trip-hop
Posted June 3rd, 2007 by aidan

About ten years ago (I can hardly believe it's that far distant now) I fell in love with Ruby. There's something about Ruby's off-kilter timing that I really like. Salt Petter had lots of great party tracks on - no, not party - pre-party warm up tracks. She must have released another album after Salt Petter because Waterside is the only track I recognise out of this collection of reworkings.
Queen Of Denial (Chow Remix) is probably my pick of the bunch. It almost sounds like something Air would make - the way it just kind of drifts along with those lazy trumpets. Though there are a few stand out moments. Another listen required methinks.
Posted May 22nd, 2007 by aidan

I only downloaded a single track off this album the other day, Into the Sun. I was put off buying the whole album by the poor reviews on the EM at the time. If this track is anything to go by that stance will have to be reassessed. I picked this track in particular due to the featuring of the sublime Martina Topely-Bird (check out Quixotic to see why some people think she's the real brains behind Tricky's success).
It's dark, heavily textured, full of that futuristic sounding backwards thing (like Boards of Canada) that I really love. Thinking about it, it's pretty similar to Marina's other work. Maybe she's particularly dominant in the studio :) I guess I should get the rest of the album to figure that one out myself.
Posted May 20th, 2007 by aidan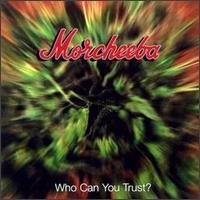 While digging through my albums today I stumbled across Morcheeba's very first album. Ahh, back when Morcheeba were good... really, really good. To be fair their following albums were actually ok but Big Calm has the dubious honour of being one of the most overplayed albums of all time.
Who Can You Trust? was a better album to begin with. Even the names 'Moog Island', 'Tape Loop' say more. It feels like raw stoned toying in an attic somewhere, before they had a reputation to live up to. I guess things have worked out pretty well really. Big Calm is like a sacrificial metal... soaking up the attention and leaving the old stuff untouched. Just the way I like it.
Anyway, it's tasty. Smooth vocals, lovely beats. Going to be perfect one afternoon this summer.