Fastnacht Festival - Luzern, Switzerland (Jan/Feb 2008)
Posted February 8th, 2008 by aidan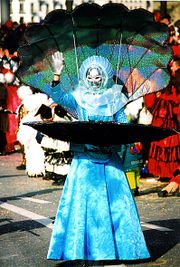 Lord, what a week. Celebrating Fastnacht is hard work (though it's a good excuse for my recent absence). While the holdrio (tea laced with schnapps) is still flowing the bands keep playing. While there are still bands playing, we keep dancing.
Fastnacht most certainly is a local festival for local people - just the way festivals should be. The general idea is that everyone gets dressed up (in outfits ranging from bizarre to the downright scary) and then makes a lot of noise to drive out the spirits of winter. The noise comes in the form of more than 100 brass bands, some with as few as 6 people and others as large as 70.
Hilariously it's almost like this is the land that time forgot - thankfully it slipped from the loving grasp of the 80s. Hang out with the right people and you may even be treated to the theme from MacGuyver though more commonly you'll hear things like Holding Out For a Hero and Time After Time. There were about a dozen absolute Swiss classics that popped up continuously - I was amazed at how many I had learnt (read: was happy make roughly melodic noises to at the top of my lungs) by the end of the festival (having said that I was pretty happy to sing along one first listen).
I made dozens of recordings throughout the week, unfortunately while the best of them were playing I ran out of batteries. This one, I think, captures the spirit of the event nicely.