Exploding Star Orchestra - We Are All From Somewhere Else
Posted May 28th, 2007 by aidan
in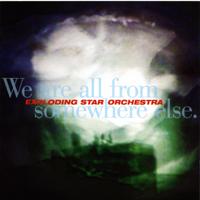 I'm liking this more and more with every listen. At its core it's a big noisy jazz album, at times hectic like only a jazz lover could enjoy (check out the last 90 seconds of String Ray and the Beginning of Time, Pt. 1 for a demonstration). Annoyingly the EM version has 2 second gaps at the end of the songs which really ruins the effects of the transitions during the 4 part and 5 part tracks, ho-hum.
Every song exploits a different great off-kilter rhythm for its foundation. The orchestration is colourful, and the performance tight. Some of the melodies feel almost Eastern influenced (which currently finds favour with me).
According to their website:
We Are All From Somewhere Else is comprised of 3 distinct sections, and corresponds to a story involving an exploding star, cosmic transformation, a sting ray, the travels of the sting ray, intelligent conversations with electric eels, the destructive power of humans, the death and ascension of sting ray, the transformation of sting ray ghost to flying bird, and the transformation of bird to phoenix to rocket to flying burning matter to a new-born star.
I almost see what they're talking about - make of that what you will.