Lizz Fields - By Day, By Night
Posted January 9th, 2008 by aidan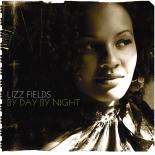 Feel in love with one of her songs, When I See Love, on the boat; it was the only one I had with me at the time. As I recall it was a random download from a site much like this one. Illegal, I guess but hell, I would never have purchased her album otherwise, no?
Anyway, I was blown away. RnB is a style of music that gets little attention from me. I get so sick of the thousands of songs/artists singing about love, pretending they've got soul when I can clearly hear that the music has none. This couldn't be more different. And this album wasn't even even meant to be released!
This album was meant to be a demo for music folks that blossomed into a full work. She's just completed her next effort, PleasureVille, which I can't wait to hear (it's not on sale yet but the samples on her myspace profile are sounding great). In the meantime I can make do with the current album. Some of the tracks, like Silent Symphony, are very jazzy while others have a great hip-hop twist to them - check out All My Mistakes.
If your clicking finger is reaching to purchase the new Jill Scott anytime soon, stop and think first - By Day, By Night is actually the album you want to hear. Trust me this girl's going to be huge.