Gillian Welch - Time (The Revelator)
Posted December 17th, 2007 by aidan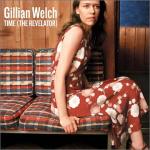 Mmmmm... beautiful americana. Listening to the final track, I Dream A Highway, and even after 14 minutes I wish it wouldn't end.
It's always hard to tell with these mp3s but it sounds to me like this was originally recorded properly (to tape). The production was actually done by Dave Rawlings (her husband) who can be heard arguing with Ryan Adams about Morrissey singles at the start of Heartbreaker.
Just noticed that I already have a few Gillian Welch tracks in my collection. There are a couple of tracks on O Brother Where Art Thou (including one with Emmylou Harris) and Scala do a cover of New Favorite on It All Leads To This.
Not sure how I've never noticed her work before. It really is very nice.