Mazzy Star "So Tonight That I Might See"
Posted October 3rd, 2013 by kevster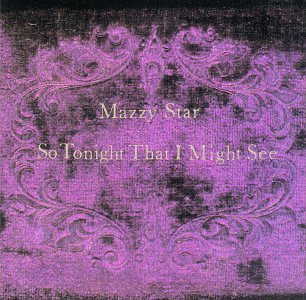 Thanks to the fluke hit "Fade Into You" -- one of the better beneficiaries of alt-rock's radio prominence in the early '90s, a gentle descent of a lead melody accompanied by piano, a steady beat, and above all else, Hope Sandoval's lovely lead vocal -- Mazzy Star's second album became something of a commercial success. All without changing much at all from where the band was before -- David Roback oversaw all the production, the core emphasis remained a nexus point between country, folk, psych, and classic rock all shrouded in mystery, and Sandoval's trademark drowsy drawl remained swathed in echo.
If there's a left-field standout, then unquestionably it's "Five String Serenade" (featured here). A cover of an Arthur Lee song -- for once not a Love-era number, but a then-recent effort -- Roback's delicate acoustic guitar effortlessly brings out its simple beauty. Tambourine and violin add just enough to the arrangement here and there, and Sandoval's calm singing makes for the icing on the cake.