Molly Ringwald "Except Sometimes"
Posted October 11th, 2013 by kevster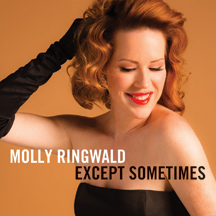 Well, of course Molly Ringwald was going to sing "Don't You (Forget About Me)" (featured here) on her 2013 singing debut Except Sometimes -- it provides the hook to draw the curious into the fold, to bring in listeners who may otherwise have never paid attention to another album of an actor singing standards. And, in most regards, Except Sometimes is indeed another album of actors singing standards, distinguished by a more-adventurous-than-usual selection of songs (Ringwald has good taste and an aversion to shopworn warhorses) and a nicely intimate vibe, suggesting a comfortable, brightly lit nightclub where smoking was prohibited long, long ago.
If Ringwald wasn't well-known, odds are Except Sometimes would never have shown up on a major label, but that's no reason to hate it: it's too cheerful and slight to inspire hate.