Standards
Posted October 11th, 2013 by kevster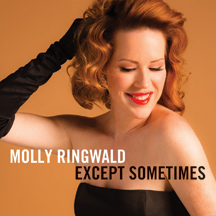 Well, of course Molly Ringwald was going to sing "Don't You (Forget About Me)" (featured here) on her 2013 singing debut Except Sometimes -- it provides the hook to draw the curious into the fold, to bring in listeners who may otherwise have never paid attention to another album of an actor singing standards. And, in most regards, Except Sometimes is indeed another album of actors singing standards, distinguished by a more-adventurous-than-usual selection of songs (Ringwald has good taste and an aversion to shopworn warhorses) and a nicely intimate vibe, suggesting a comfortable, brightly lit nightclub where smoking was prohibited long, long ago.
If Ringwald wasn't well-known, odds are Except Sometimes would never have shown up on a major label, but that's no reason to hate it: it's too cheerful and slight to inspire hate.
Posted April 23rd, 2010 by kevster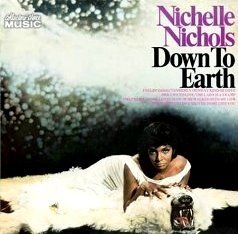 Although arguably best-known for her portrayal of communications officer, Lieutenant Nyota Uhura on the original sci-fi television program Star Trek, Nichelle Nichols is likewise a formidable vocalist.
Her abilities actually predate her acting prowess, as she was performing in nightclubs and had garnered a solo spot during a brief stint with Duke Ellington & His Orchestra, all of which she accomplished before 1960.
Concurrent with her work on Star Trek, Nichols was recording for Epic Records, releasing a 45 rpm featuring "Know What I Mean" b/w "Why Don't You Do Right" in 1967. She then teamed up with jazz arranger Gerald Wilson to create Down to Earth.
Her tremendous talents stylistically run the gamut from the up-tempo and soulful "Feelin' Good" to the torch balladry of "Tenderly" and the touching "The More I See of You." She effortlessly takes on "The Lady Is a Tramp," adding a few hip and timely humorous asides. The lesser-known title "You'd Better Love Me" and the cover of Georgia Gibbs' "Home Lovin' Man" are brought to life with equal aplomb.
A nice little curio.