Cover
Posted April 20th, 2010 by kevster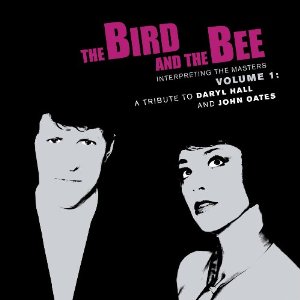 Children of the '80s that they are, singer Inara George and producer Greg Kurstin have chosen Daryl Hall & John Oates for the first volume of Interpreting the Masters, a sly move that reveals both their age and intended audience -- i.e., ex alt-rockers raised on new wave and now settling into a tasteful, hipster middle age, hauling around kids dressed in Ramones t-shirts -- and a reflection of Hall & Oates' increasing reputation as soul-pop songwriters and record-makers.
The Bird & the Bee manage to make these very familiar hits sound fresh without radically reinventing them. That in itself is a much trickier move than turning these all into slow acoustic dirges, but it's better still because these arrangements are true to both Hall & Oates and George & Kurstin.
The heart of the album lies in these covers of '80s staples: they shift the spotlight just enough to prove how good both the original song and singles are, and by never drawing attention to their own performance and arrangements, the Bird & the Bee prove just how good they are too.