gospel
Posted April 1st, 2010 by kevster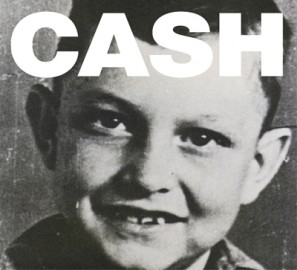 Released for the occasion of Johnny Cash's 78th birthday, American VI: Ain't No Grave is the final installment in the collaboration between Cash and Rick Rubin that began with 1994's American Recordings.
These ten songs were cut during the same sessions for American V: A Hundred Highways. June Carter Cash (Johnny's wife) died during routine surgery during these sessions. Cash, though grief stricken and with full knowledge that he too was dying due to complications from Parkinson's disease, worked as often as his health would allow. He died three months after these songs were recorded.
Ain't No Grave is an elegiac and deeply spiritual album, a formal goodbye without regret from a man and an artist of almost mythic stature. The album's final cut is Queen Liliuokalani's traditional Hawaiian ballad "Aloha Oe," one of the sweetest, most affectionate leaving songs ever written. And Cash's version? It's devastatingly beautiful; to the point of tears.
The featured track is a country-gospel-blues by Brother Claude Ely -- it's a fierce showdown with the Reaper, with the singer winning it hands down.
If there were any justice, Ain't No Grave would be the last album released under Cash's name.
Posted July 31st, 2007 by aidan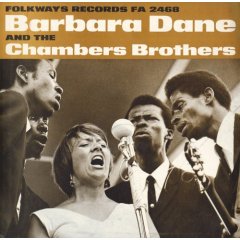 It only takes a moment to understand the motivation behind what's going on here - it's a revolt against racism in America. It's done in a very uplifting way, you know, so it's positive sounding.
For the most part it's a gospel record. You get lots of great handclappy gospel rhythms which as you well know always goes down well with me. Though actually, there's some sort of weird synchronisation going on in one of the songs, I can't remember which. The claps on the left and right channels are just far enough out of line to be a tad off-putting.
The first half is upbeat then it gets more acapella based during the 2nd half. I really love the major->minor key changes in the harmonies - in Freedom Is a Constant Struggle it's used to great effect. Check out We'll Never Turn Back for that matter.
Interestingly there's a cover of Come By Here (more commonly known as Kumbaya) on here (ah, this has the crazy handclaps in it). I had never looked into the history of the song before. Seems there's a bit of debate about who actually wrote it. Turns out that a cheeky white reverend may well have stolen it and claimed it as his own. Sums up the tone of the album really, eh?
Posted February 12th, 2007 by aidan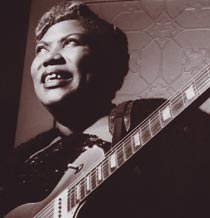 Oh my god. This must surely be some of the coolest guitar work ever.
Just watch a video of her to see for yourself how cool she is. Damn cool.