2012
Posted October 3rd, 2013 by kevster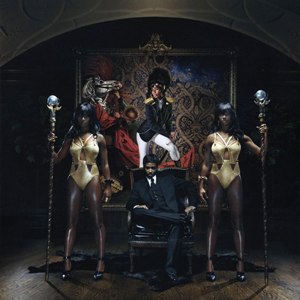 Frontwoman Santi White has taken on the face of Santigold for Master of My Make-Believe, as depicted in the album's artwork, which finds her portraying all four characters (even the mustached man that sits front and center). John Hill continues to co-write, but with White gaining pop star status, he takes the back seat, as they enlist the help of A-list producers Diplo, Switch, Boyz Noise, Buraka Som Sistema, TV on the Radio's Dave Sitek, Ricky Blaze, and Q-Tip. Multi-instrumentalist Greg Kurstin (Beck, Flaming Lips) and the Yeah Yeah Yeahs also make a huge impact on the sound of the record, with Karen O contributing vocals on the leadoff "Go!" and Nick Zinner scattering delicious guitar texture across the tracks.
When not dabbling in reggae (like on the Beastie Boys album cameo "Don't Play No Game That I Can't Win"), White -- whose favourite band is appropriately the Smiths -- continues to be masterful at appropriating sparkling '80s arrangements, as seen in "The Keepers," (featured here), a slick song that swipes a melody line from "Little Red Corvette" and incorporates a theme once explored by Talking Heads ("While we sleep, our house is burning down").
While that's no guarantee that the sophomore outing will be as huge a hit as Santigold's breakout, at least it's proof positive that Santi White is settling in for a long ride.