DJ Vadim - Sound Catcher
Posted September 25th, 2007 by aidan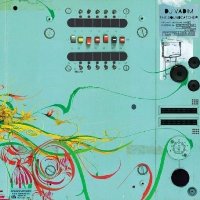 This one is getting the prize for most enjoyed album I've given to other people recently. There are a handful of people that I've shown this one to that seem to have fallen in love with it. I haven't listened to it enough to get to this stage but I can see why. I put it down to the super slick dubbed out hip hop production work.
There's plenty of variation in pace from soul vibes in Talk to Me to head nodding use of Beastie Boys samples in Got To Rock. The two city named tracks, Manchester and Milwaukee feel like abstract Shadow/RJD2 productions.
There are guest vocalists all over the place here (a different one on each track). We even get treated to the current favourite in my house of residence, Skinny Man.
If you're off to go chill out in the sunshine anytime soon put this one on the top of the playlist. You really won't regret it.