Doveman - The Acrobat
Posted October 15th, 2007 by aidan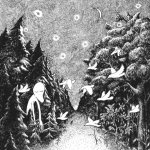 Hang on, let me just wipe the tear from my eye. What a sad collection of songs. Damn, it sure is strikingly beautiful - "I could die here in your arms, but I'm not sure you're worth the sacrifice".
I love the banjo sound. Luckily it features throughout of the album. Often just meandering along, certainly never overpowering. Nothing is overpowering here. Every instrument, voice included seems to find a humble spot somewhere in the background.
Some bits of this remind me of the days when I was listening to a lot of Jim White. The better bits of Jim White that is.
Have I heard Walk On before? Is it a cover? Maybe not, it's a must hear though.