Kraftwerk "Trans-Europa Express" (digital remaster)
Posted September 27th, 2013 by kevster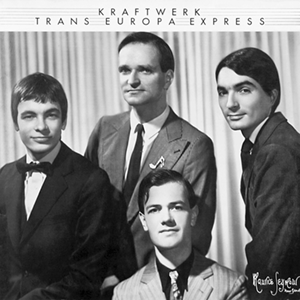 Although Autobahn was a left-field masterpiece, Trans-Europe Express is often cited as perhaps the archetypal (and most accessible) Kraftwerk album. Melodic themes are repeated often and occasionally interwoven over deliberate, chugging beats, sometimes with manipulated vocals; the effect is mechanical yet hypnotic.
The song "Trans-Europe Express" (featured here) is similar in concept to "Autobahn," as it mimics the swaying motion and insistent drive of a cross-continent train trip.
Overall, Trans-Europe Express offers the best blend of minimalism, mechanized rhythms, and crafted, catchy melodies in the group's catalog; henceforth, their music would take on more danceable qualities only hinted at here (although the title cut provided the basis for Afrika Bambaataa's enormously important dancefloor smash "Planet Rock").